The Bur Oak
The Bur Oak - Known as the King of Keo
The Bur Oak to the left was located a short distance north of Keo. It was located 1 1/2 miles north on Hwy 15 from the intersection of Hwy 165 and Hwy 15 at Keo. There are two people standing under the tree, but they are dwarfed by the size of the tree which boasts a Bigness Index (BI) of 404.

This tree was nominated by Reggie Talley, University of Arkansas, Monroe County Cooperative Extension Service Agent for being named the Lonoke county Champion Bur Oak tree. According to the National Register of Big Trees 2000-01 lists the National champion bur oak with a (BI) of 444 located at Paris, Kentucky.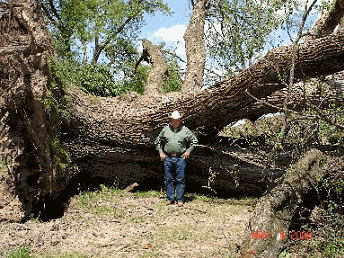 Alas, the tornado that came through Keo in May 2008 destroyed our famous Bur Oak Tree. However, Kenneth Cole shown in picture to the left has three offspring of the tree growing at his home on Hwy 232. The tree will live on!!!!!!