Keo Volunteer Fire Department
If you are witnessing a crime in progress or are experiencing an emergency, please dial 911.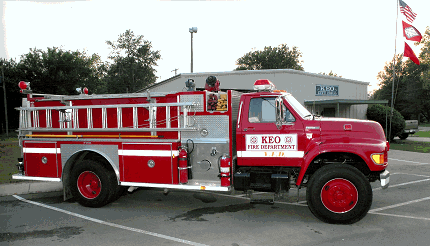 The City of Keo Fire Department's mission is to protect and enhance the quality of life for all citizens and visitors from the adverse effects of natural and man-made emergencies. 

Our goal is to provide a protection program through a cost-efficient approach to emergency response, fire code application and public fire education.
A Little History:
The Keo Volunteer Fire Department was Authorized by City Ordinance in 1990. The dept had one 1967 Fire Truck and there was basic gear for eight Volunteers. During this time, the dept worked diligently to protect our community. In 2002 the Fire dept added space to the City Hall to meet the needs of the Dept. In 2005, the dept saw great change. The ISO Rating went from 9 to 6 and a new 1989 Ford Fire truck was purchased. In 2006 the City purchased a new Tornado Siren, which allowed the Fire Dept a more efficient way of notifying the community of tornados. The siren was replaced in 2022.

Previously, they had to use the Fire Truck sirens and drive through town. Late in 2008, the City purchased a new High Band Communications System that would be mandatory by 2013. This allowed the Firemen to have better communication.

In 2009, the department had further updates under the direction of Fire Chief Charles Martin through required training procedures, organizing and training First Responder Groups and updating equipment for the Dept.
Today:
Today, we have a new Fire Chief, David Busick. Training and preparedness continue to be the major focus. Chief Busick will continue to make improvements by ensuring equipment is replaced, as needed, and growing the size of the department. The volunteer firemen meet and train every other Thursday at 7pm. If you would be interested in joining or learning more about the department, contact Chief Busick for more information.

The community greatly appreciates the Fire Dept for their hard work and time spent in keeping our city safe. Thank you Keo Fire Dept!
Contact Info